Safer Gosport Community Day 2020
CORONAVIRUS (Covid-19) UPDATE (28/04/2020)
Following the continued government Coronavirus advice, which includes minimising social contact, this year's event which was due to take place on Saturday 25th April, was cancelled.  We are planning on providing an update about the continued work of our partners on this page, accompanied by some videos and downloadable leaflets which you may find useful.
In the meantime, please continue to follow advice about Coronavirus, from trusted sources which include:
Safer Gosport Community Day 2019
Even the arrival of Storm Hannah couldn't stop hundreds of residents turning out to vote for the  YOUdecide finalists at the Safer Gosport Community Day, Saturday 27th April 2019.
In addition to the voting, residents enjoyed meeting a whole host of volunteers including GAFIRS, SERV Wessex, South Central Ambulance Service, HIOWAA and HM Coastguard.  Paw Patrol's Chase also made an appearance too much to the delight of local youngsters.
Following a tense wait on the day, the results were announced for the winners of the 2019 YOUdecide vote with the projects by Motiv8 and Loud & Proud successfully being funded.  Oarsome Chance received the remainder of the £10,000 towards their project and you can find more information about the process on the Youth YOUdecide page.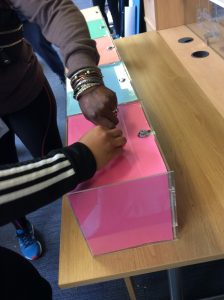 For regular updates about the work of the partnership, follow @Safergosport on Twitter or like our Facebook page: https://www.facebook.com/safergosport
Safer Gosport Community Day 2018
Whilst the sun only made a brief appearance on the day, it failed to dampen the spirit of the 2018 Safer Gosport Community Day! Residents were welcomed by a whole host of local organisations in Lawrence Square on Saturday 21st April.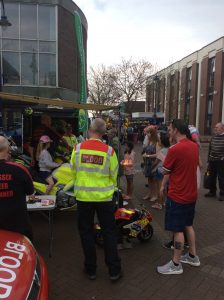 Age was no barrier to learning new skills, with many residents young and old alike learning life saving skills with the Community First Responders team…even Paw Patrol got in on the action!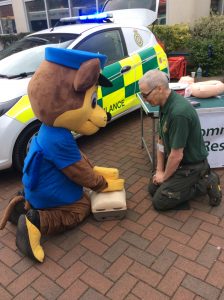 Lots of residents took up the offer of free cycle coding, which was carried out by the Hampshire Police Cadet members.

A short survey was carried out, which indicated that of those who took part 71% feel safe in Gosport.  Additionally, 76% of respondents feel confident in the Partnership's ability to reduce crime and ASB.  Results from the survey can be found here:
Summary results SGCD survey 2018

Safer Gosport Community Day 2017
On Saturday 18th March 2017, Gosport Community Safety Partnership hosted its' popular annual event with a guest appearance from Paw Patrol thanks to Square Pegs Charity.
Music was provided by young people from Motiv8 and the vehicle display proved to be as popular as ever with the younger members of the community, as well as the chance to learn life saving skills from the Community First Responders.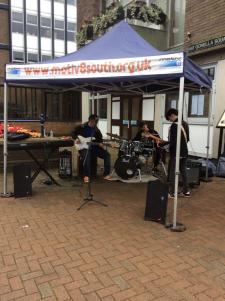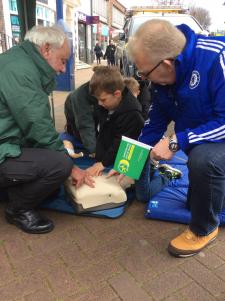 Queues of people took the opportunity to get their bicycles coded for free by Hampshire Police Cadets, along with the chance to purchase their discounted cycle locks to guard against potential theft.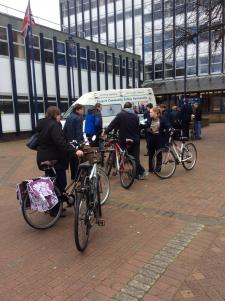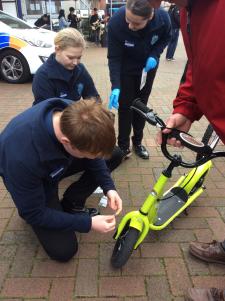 Police and Crime Commissioner Michael Lane and MP Caroline Dinenage joined the many visitors obtaining information and advice from organisations such as Victim Support, Neighbourhood Watch and Gosport Street Pastors.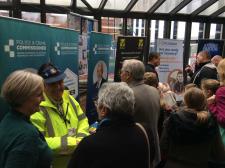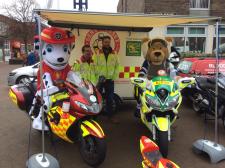 Plenty of residents took part in the survey with 83% agreeing that they feel safe in Gosport. Residents were also asked if they had experienced or witnessed the following and of those who took part:
Children at risk of sexual exploitation – 51%

Domestic Abuse – 14%

Rough Sleepers – 12%

Hate Crime – 19%

None of these – 3%
These results will contribute to the CSP Strategic assessment which is carried out annually to assess emerging issues both nationally and locally to help inform the local plan.
A number of residents also took part in the free prize draw winning a range of prizes including High Street vouchers, Easter Eggs and more – special thanks to Affinity Hair and Beauty and Gosport Leisure Centre for their kind donations.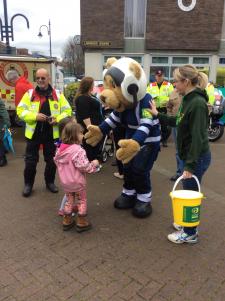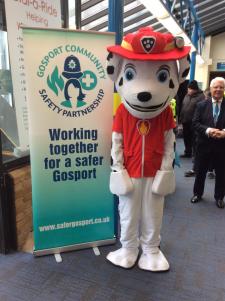 You can keep up to date with the latest news about the work of the Partnership on our Facebook and Twitter pages, so make sure you like or follow our pages!