Cycle Crime

Register your bike!
If you have attended a Cycle Safe event in the past, please remember to register your bike using the pack given to you on the day. Below is a link to a document that will assist you in registering your bike…it will only take a couple of minutes to complete.
Steps to register your bicycle
Cycle Safe Review 2018 – 2019

Gosport Community Safety Partnership, including the Community Safety Team and Police have attended a number of events over the past year, details of the number of bicycles coded and locks sold at these events are listed below:
Event

Cycles coded

Locks sold

Safer Gosport Community Day – April 2017

24

13

Brockhurst School Fayre – July 2018

11

–

Leesland Junior School – July 2018

32

–

GAFIRS Blue Light Day – July 2018

36

4

Bridgemary Carnival – July 2018

22

–

Summer Passport – August 2018

11

–

Mayor's Cycle Challenge – September 2018

16

–

Gosport High Street – November 2018

4

–

Junior Park Run – December 2018

22

–

Gosport Leisure Centre

60

8
Find that bike
Find that bike is a site that will send emails to the registered person to advise of any bike that has been put up for sale on Gumtree or Ebay which matches specifics entered by the user.
It also has a section to check for bike serial numbers and to report stolen bikes.
To find out more please visit http://www.findthatbike.co.uk/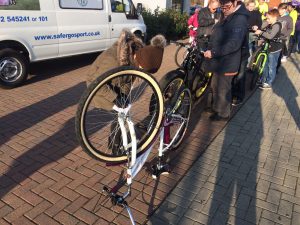 A guide to keeping your bicycle safe
Don't leave your bicycle unlocked – even for a minute!
If you have a garage or shed, secure your bicycle in it using a lock and then lock the garage/shed.
Lock the frame to something solid and use a sold secure lock. Visit www.soldsecure.com
Note your bicycle make, model and frame number somewhere safe.
It is recommended that cyclists use two locks of different types, and lock the frame and both wheels to the stand. This will defend the secured bicycle against multiple theft techniques. Please see the diagram below.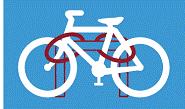 Please see the following link to a video showing you how to lock your bike correctly and keep your bike safe from thieves: www.youtube.com/watch