Anti-Social Behaviour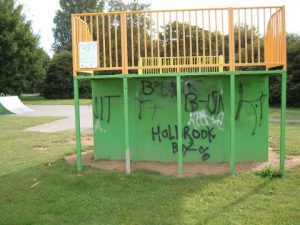 This page provides information, advice and guidance around addressing Anti-Social Behaviour (ASB) and information relating to ASB Case Reviews (also known as the Community Trigger) and Community Remedy.
ASB is any aggressive, intimidating or destructive activity that damages or destroys another person's quality of life.
ASB covers a wide range of unacceptable activity that causes harm to an individuals, to their community or to their environment and can include:
Nuisance, rowdy and inconsiderate behaviour
Vandalism and graffiti
Abusive language
Neighbour disputes
Fly tipping (please contact Streetscene on 08000 198 598 to report fly tipping)
Abandoned vehicles (please click on this link to report an abandoned vehicle – https://www.gosport.gov.uk/article/796/Abandoned-vehicle
How do I report Anti-Social Behaviour?
ASB and crimes that are not an emergency can be reported by calling the non-emergency Police telephone number by dialling 101 or using the following online reporting form – https://www.hampshire.police.uk/ro/report/asb/asb/report-antisocial-behaviour/
In cases of an emergency such as when there is a risk of harm call 999.
How do I report Noise Nuisance?
Noise complaints should be reported by calling Environmental Health on 023 9254 5505, 5506 or 5507 during office hours (09:00 – 17:00). Alternatively you can visit the ground floor reception at the Town Hall, High Street, Gosport to speak with a member of staff.
Please see the following web link for further information about the procedure for dealing with noise complaints.
www.gosport.gov.uk/sections/environment/environmental-health/housing-pollution/noise-and-other-nuisances/
Anti-Social Behaviour, Crime and Policing Act 2014
In 2014 the new Anti-Social Behaviour, Crime and Policing Bill was introduced by Parliament.
The new Anti-Social Behaviour toolkit will see the number of orders and injunctions reduced to six, these new powers are detailed in the document below:
ASB Tools and Powers Statutory Guidance
ASB Case Review (also known as the Community Trigger)
The ASB Case Review is designed to give victims of ASB the the right to request a review of their case and bring agencies together to take a joined up, problem solving approach to find a solution.
Who can use the ASB Case Review and what is the threshold?
A victim of anti-social behaviour or another person acting on behalf of the victim (with the victim's consent such as a family member, friend or local elected representative e.g. a Councillor or MP).
An individual acting on behalf of a group of residents or community group.
The victim may be an individual, a business or a community group.
Three complaints in the previous six months reporting behaviour causing harassment, alarm or distress to a member or members of the community and you think no action has been taken or are not satisfied with the action taken.
To meet the criteria incidents need to:
Cause harassment, alarm or distress.
Been logged within one month of the incident.
Last incident has occurred within the previous six months.
For further information on the ASB Case Review process and details explaining how to activate an ASB Case Review please visit the following webpage – http://www.safergosport.co.uk/community-trigger/

Community Remedy
The Community Remedy was introduced by the Anti-Social Behaviour, Crime and Policing Act in October 2014. Its purpose is to provide victims with a say in the way offenders are dealt with when they commit low level and minor crimes or ASB.
The Community Remedy document lists a variety of actions that an offender can be asked undertake to either make amends for their offence or help address the cause of their offending behaviour.
When dealing with ASB or a low level offence, the police must make reasonable efforts to obtain the views of the victim, and in particular their views as to whether the offender should carry out any of the actions listed in the Community Remedy document.
What is a low level offence?
Offences that if dealt with by the Magistrate's Court would not result in imprisonment or long-term community sentences, such as criminal damage, low value theft, minor assaults (without injury) and anti-social behaviour.
Is Community Remedy always used for a low level offence?
Community Remedy applies when the police decide to deal with the low level offence outside of the courts (called an Out-of-Court disposal), specifically using:
Community Resolution is a voluntary informal agreement mainly used with first-time offenders for less serious offences. Conditions can be attached to a Community Resolution, however there are no enforcement options available if the offender fails to comply.
Conditional Caution or a Youth Conditional Caution is a caution with conditions attached which aim to focus on rehabilitation and repairing the harm to the victim. If the offender fails to comply with the conditions they may be prosecuted for the original offence.
To see a list of Community Remedy options victims can choose from (which were decided on following consultation by the Police and Crime Commissioner with the public and partnership agencies), please visit the following website – https://www.hampshire-pcc.gov.uk/safer-together/supporting-victims/community-remedy
Gosport and Town Centre Public Spaces Protection Order (PSPO)
Following a public consultation Gosport Borough Council, on the 7th October 2020, approved the Gosport and Town Centre Public Spaces Protection Order 2020 for the control of Anti-Social Behaviour and Alcohol.  The order came into effect on 20th October 2020 for a period of 3 years.
A copy of the order can be found here: Final Town Centre PSPO October 2020
PERSONAL WATERCRAFT (JET SKIING) / WATER SKIING / BOARD SAILING (WIND SURFING) AND SWIMMING
Queen's Harbour Master Portsmouth guidance on usage in Portsmouth Harbour and Solent: https://www.royalnavy.mod.uk/qhm/portsmouth/local-notices/general-directions/2021/1601-pwc-water-skiing-board-sailing-and-swimming
Any anti social beahviour relating to PWC usage should be reported to Hampshire Constabulary here