Neighbourhood Watch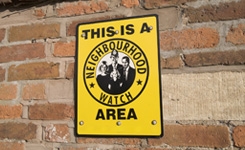 Whether you just want to find out if there is a scheme in your area or you would like to take it a step further and start a scheme, there is plenty of support available.
Gosport Neighbourhood Watch Association provide a wide range of knowledge and support including:
How to set up a scheme
Crime prevention advice
Cycle Security
Newsletters
You can find all of this information and local contacts on the Gosport Neighbourhood Watch website: www.gosportnhw.co.uk The site also has local news and information about seasonal or sporadic crimes which you may need to be aware of. You can also like their Facebook page, which is regularly updated with useful tips and information: https://www.facebook.com/GOSPORTNHW?hc_location=ufi
Neighbourhood Watch have a national website http://www.ourwatch.org.uk/ which provides safety advice, along with resources and information about national campaigns and events.