Community Speed Watch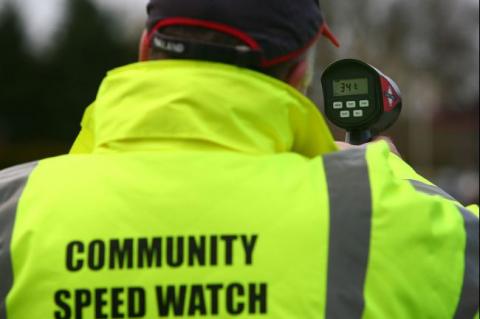 Community Speed Watch enables groups of citizens who are concerned about road safety and want to reduce excessive vehicle speeds on their roads to do something about it. It will only take place at locations where there is an identified speeding issue and all volunteers are trained by Road Policing Officers in monitoring traffic speed and must comply with a code of practice.
Community Speed Watch is not about spying or snooping on neighbours, it is about taking positive action on the ground working in partnership helping to improve the safety and quality of life for everyone in the Community.
Operating at the roadside in 30 and 40 miles per hour (mph) limits, Speed Watch practitioners monitor the speeds of passing vehicles using portable speed indication devices. They record and report the speed and identifying details of vehicles travelling at or above nationally-specified speed thresholds (35 and 46mph respectively).
The registered keepers of vehicles seen repeatedly or excessively speeding anywhere in the county are then sent a warning letter and advice by the Police.
Community Speed Watch (CSW) helps:
Increase the awareness of speeding and encourages drivers to address their behaviour without being penalised

Reduce deaths, injuries and collisions on local roads

Improve the safety and quality of life for local communities
It also encourages community engagement and partnership working. Community Speed Watch volunteers will work closely with the Neighbourhood Policing Teams and in liaison with and supported by the Roads Policing Unit.
If you are concerned about road safety and want to reduce excessive vehicle speeds on local roads particularly near schools, you can volunteer to join the Gosport Community Speed Watch Team by contacting speedwatch@hampshire.police.uk