Applications are open for young people aged 14-25 to join the Police and Crime Commissioner's Youth Commission.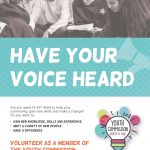 The purpose of the Hampshire and Isle of Wight Youth Commission is to make young people part of the solution to tackling crime and improving policing, rather than being seen as part of the problem.
Volunteers work in teams to;
talk with young people in their communities to understand their policing and criminal justice concerns
provide opportunities for young people to inform, support and challenge the Police and Crime Commissioners work
identify the root causes of problems, make recommendations for change and work on solutions
The process will be completed entirely online, with a virtual taster session and induction for successful applicants. Meetings are via Zoom for the foreseeable time.
The application form is here https://cutt.ly/1s7k9ss, more information about the role is at www.hampshire-pcc.gov.uk/join, and applications close on October 30th  2020.